so i just wanna start this love letter out by reminding myself (and you) that: wowwwww so much can change in just one moment! literally seconds, minutes, hours, days, weeks, MONTHS, YEARS, DECADES, CENTURIES, EVEN MILLENNIUMS…go by, day to night, sun sets, rises again, over and over and over. . and in between all those little moments things are changing! constantly! all! the! time! we're! going! through! something, nothing and every thing all at once!!!!!! doesn't that fascinate you? does it make you feel weaker or stronger (hopefully the latter)? one moment you're sitting there, the next you're standing up or maybe you even end up on the floor. there's so much that is exchanged between ourselves and other beings in the time that we're given on this earth.
is anything or everything by chance? or is it predetermined, meant to happen exactly in the way it did or does? i have these theories and concepts that just blow my mind outta the water. i haven't slept a wink in a while now and with that being the case, i have still realized the tremendous amount of attention to detail i've maintained in paying very close attention to my breath. i really think that having such an extreme focus in the ways that my body changes when there is sudden change in my environment occurring around me really has been such a brilliant reminder that our bodies are so deeply affected by most of what we're dealing with. mentally and emotionally! it's a working machine that only works properly if you're tending to all the parts in the ways that you must, which does look different for every person because duhhhh we're all different!!!
END RANT (i constantly digress in most conversation and posts because every thing is literally just happening and floating through my mind all at the same time and it's always been hard for me to focus on just one thing, other than people. which in the past hasn't always been beneficial to my growth in some ways. it happens! we're living and learning, hopefully forgiving)! these are just a few things floating in and out of my mind today and most days more recently it seems.
this blog post is super important for me to get across to you in the ways that i want to, so here goes something, nothing AND EVERY THING all at once! we're jumping right into it!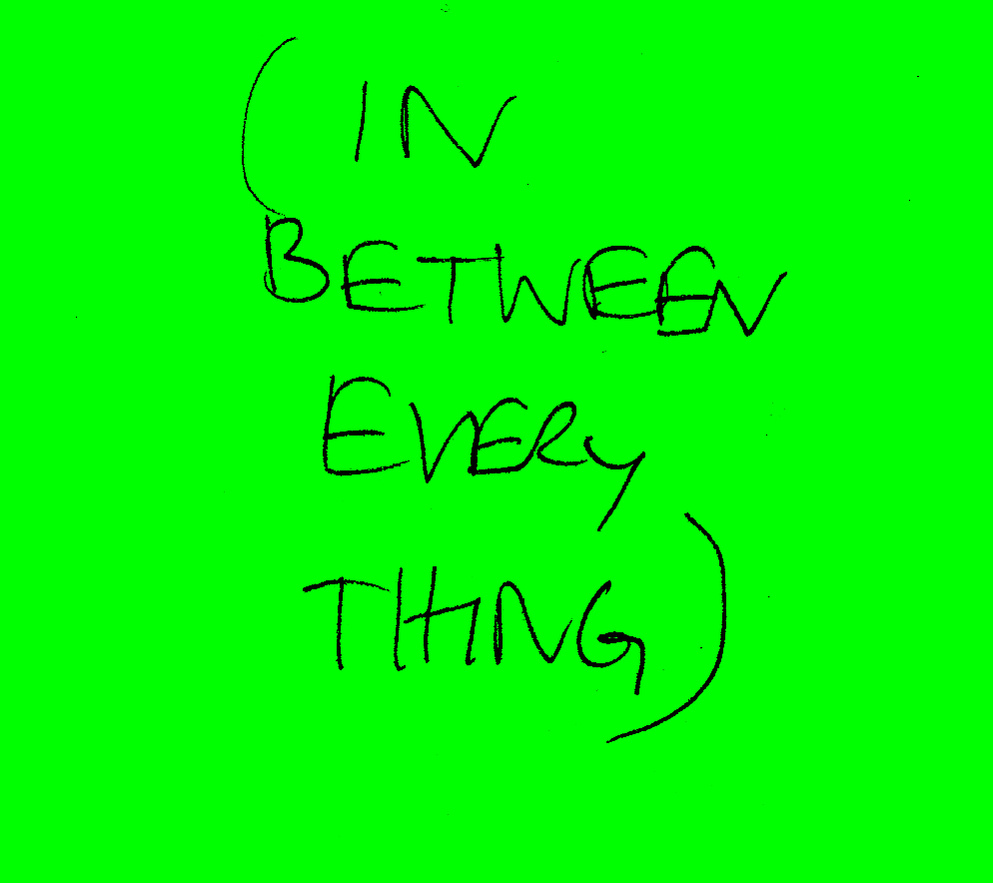 "
IN

BETWEEN

EVERY

THING

"

HOW HAS "IBET" (like my lame ass acronym??? hehe hope u do if u don't literally go flush ur head down a toilet) (JK DO NOT DO THAT I LUV U REMEMBER) EVOLVED INTO THE PROJECT THAT IS?

wow such a big process here!


honestly every thing has just come together over the years of collecting and experiencing life. it didn't seem like much while every thing was happening but looking back now these past several years have been one big universal ride! it's been so scary and amazing and stupid really. just a lot happening, a lot of coming and going and not showing up in some cases. i started collecting things that meant something to me in the thick of it all. tangible mementos that belonged to my family and friends, my experiences with humanity, bizarre encounters that just felt like i needed to put it somewhere because it felt too special or traumatic to me and how could i decide to just not share those memories with myself in such a real way? my memories feel so dramatically sentimental and it's incredibly overwhelming to take them with me wherever i go, so i cut, copy and paste them down to a surface. it may feel sad when you see, read or feel what i write, i think that's because usually i'm just feeling things internally and externally all at once. outwardly i'm smiling, dancing and kicking my legs in the air but if you get a peek inside, i'm really hyper-assessing situations and life around me in real time, remembering things as they are, were and will be. past, present, future. this project has no correct order of arrangement. every thing feels equally important in it's occurrences and putting it into the square box of time and place just doesn't really fit for me.

WHY HAS IT BECOME SOMETHING SO INSANELY IMPORTANT FOR YOU TO SHARE AFTER 4 ENTIRE YEARS OF CURATING AND PULLING TOGETHER ALL OF THESE MEMORIES?


i think this is really important to finally just share because honestly where would it go otherwise? a box shoved way in the back of my closet? a drawer that i rarely open? should i keep all of this to myself because it's mine and too painfully realistic to share? yeah, NO. i remember that version of myself where sharing my art felt like it was exposing me in ways that allowed other people to know me through my creative expression, it became a language to decipher. that was exactly what was happening and exactly what i was afraid of i suppose. i remember one day in class many moons ago when i was still a student, i had a professor that said something that stuck inside of my brain the moment it parted ways with his mouth. he said to me, "kaylah, you're gonna be the artist that everyone admires and connects with after you're dead." honestly i was so furious that he said that to me, it felt wildly inappropriate and what did he know any way? what was he accomplishing in his own personal work that warranted such a critical observation? that's what i thought to myself. but really it was just the thing to hear at the time because it really finally started a fire inside of me. a big, wild PASSIONATE one. i was angry, hurt, i felt judged and i was judging back so hard and was even convinced it would make me feel better. it didn't really for a long time, but it was something i was so fucking afraid of hearing out loud from someone else because it was an unspoken insecurity that i was masking with an attitude of indifference. i pretended i didn't care but i really did. i remember it clearly, i got so angry i started to cry (i cry once a day lOL) i ran out the class room, and rushed to hampton park (shout out chucktown, i miss you every day) and wrote so much. so much. i even hallucinated i think i was that angry! i knew that day there was no turning back, i had to create for myself and for no one else. i had to connect with myself in the only way i really knew how. i started collecting words, found objects, photographs, collages and different mediums that documented my unraveling. i guess it's important to share with you how transparent we all can be and how wonderfully it benefits us…if only we allow ourselves to face the truths of our existence. it feels mega and difficult most of the time and that's not a reason to shy away. it's important to me because it's all i really have.

WHEN ARE YOU FINALLY GONNA SHARE THIS SUPER SPECIAL PROJECT (SELF-PROCLAIMED LOLOLOL) OF YOURS WITH THE UNIVERSE?

i really do not know the answer to this question. like i said, dates don't matter to me unless they highlight the past. so i'm not really focusing too much on when right now. the project itself is still in the works and i wonder how long it will take for me to ever really feel "finished" with it. maybe i won't finish it for a long time. i'm still working on concepts for how i want to organize the project. should i release it as an entire piece or break it up individually into chapters? who knows! it will be released though in some physical way, shape or form. STAY TUNED!

WHERE ARE YOU PLANNING TO SUBMIT THIS PROJECT? WILL IT BE ONLINE, WILL IT BE IN BOOK FORM, INSTALLATION ART??? WHAT IN THE WORLD IS GOING ONNNNN!!!!!!!

i am totally going into this with the intention of placing this physically in someones hands, i want them to be able to touch it and turn the pages, i want the memories to feel more like their own. i want you to engage with it deeply. i want to branch out in ways that i couldn't even imagine, ways that feel unachievable. i want to prove myself wrong, shoot for the stars and maybe even past them. i don't know how big or small i want any of this to be. still answering several questions myself as you can see. it's going to be with you. that's all for now!




below are a few collages and words that lead into the first pages of "IBET"! working really hard to bring this all together in a way that everyone can attempt to understand, but no promises of course. i might suck at keeping those.




peace + luv, kaylah